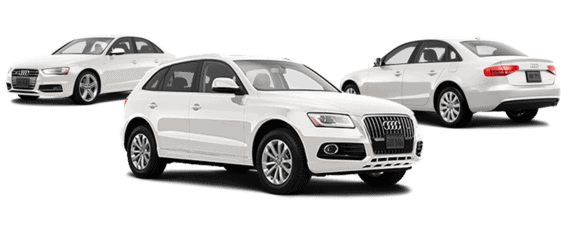 Here is what you need to know before buying that used car. Find out the Audi VIN Decoder specifications, accident history, odometer details, equipment list and more.
The Audi logo features four interlinked rings celebrating the car manufacturers who formed Auto Union. They are a German automobile manufacturer, headquartered in Ingolstadt and currently own 99.7% of Volkswagen AG with their headquarters located there too – so it's no surprise that they have such an affinity for Bavarian tradition!
Check any Audi vehicle with out Audi VIN Decoder.
Audi VIN check available for cars all over Europe. Also for US vehicles.
What is an Audi VIN Decoder and How Can it Help You?
Most luxurious car manufacturers Audi. Check every Audi VIN with VINSPY.eu
An Audi VIN is an identification number that's stamped into every Audi manufactured. This unique number contains information about everything from when and where your car was built to how it has been maintained throughout its life cycle. The purpose of this article will be to educate you on how to use an audi vin parser in order to find information about your car.
How does Audi VIN Decoder Work?
When inputting the 17-digit VIN into a vin decoder, a lot of information about your vehicle will be displayed,
Audi is one of the world's most colorful and longest-selling automotive companies and is currently the world's biggest car magnate in 2020, Volkswagen, the second-most-sold brand of vehicles. To understand how Audi holds such a high spot, one needs to know a bit about Audi's car history.
The German company, which operates under the wing of the larger Volkswagen Group only for the manufacture of Audi brand vehicles and has its head office in the German city of Ingolstadt. Other Volkswagen group vehicles include Bentley, Bugatti, Lamborghini, Porsche, SEAT, Shkoda, Ducati, MAN, Scania and Neoplan.

100
200
50
500
5000
60
75
80
90
A1
A2
A3
A4
A5
A6
A7
A8
ALLROAD
CABRIOLET
COUPE
F103
FOX
Q3
Q5
Q7
QUATTRO
R8
SUPER
TT
V8
Audi is a car company that was started in 1899. Their first model, the Audi 2.6-litre four cylinder motor vehicle, may have been their most popular because it set them on an upward trajectory of success and prosperity.
The four-ring logo emerged as a result of the global crisis. No car manufacturer could have created their models in the normal way. Many companies needed loans from state banks. Loans, however, were very low and interest rates too high. As a result, many stood before the choice: either to declare bankruptcy or to conclude a cooperation agreement with competitors. To this end, the four companies (DKW, Horch and Wanderer) joined together to enter into a joint agreement with the bank.
How to buy used Audi car?
The pre-purchase Audi inspection and the free VIN decoder will help to minimise damage that could occur to your car. In order for you not regret a purchase, an inspector will check mechanical parts of the vehicle as well as electronic functions on it. They'll also review its visual condition by checking all exterior areas such as paint color or tire treads before they make any judgments about how driving quality might be affected in later years due to external factors like weather exposure, accidents from other drivers etcetera which can potentially have been avoided if only the owner was more careful when taking care of his/her automobile! After this comprehensive examination process is completed thoroughly enough with no major faults found within these systems – then comes mileage checks through official maintenance history of the Audi.
What is the Best Way to Use an Audi VIN Decoder?
An Audi VIN decoder is a computer program that is able to decode the car's identification number and provide information about the car's make, model, year of manufacture, etc. The decoding process can be done manually or automatically.
The manual way of decoding Audi's VIN number is by using an online database. It will allow you to type in the automobile's VIN and then it will display all information about that specific vehicle. This option is great if you need to know something in particular.
Alternatively, if you want a more accurate and detailed report, use an automatic decoding tool for your Audi's VIN number instead. These tools are more expensive but they offer many more features than their manual counterparts.
The high price and indirect costs of a new car lie mainly in the loss of value: it is only after 3 years that most vehicles have depreciated by more than half of their initial price (for depreciation of used cars, mileage also matters, which up to around 120,000 kilometers is relatively low for quality vehicles; from this it should be borne in mind that the damping starts to slow down again, as the details most affected by the vehicle are starting to wear out and may need to be repaired soon.), the maintenance and repair costs associated with the new car are lower, but they are negligible when compared to it is only after the fifth year of the car's life that depreciation is less than half of the annual cost (fuel, insurance, maintenance More expensive and quality cars often have a larger aftermarket than vehicles less expensive, but cheaper vehicles depreciate less with the new car.
Many people assume that when they buy a used car, there will be no issues. However, Audi VIN Check gives you all the information before buying which can protect against scams and frauds and save money in the long run.
Many people don't think beyond their initial search for a pre-owned vehicle to consider what might happen after purchase—but fortunately we have tools like Audi VIN decoder! All it takes is one small mistake or misunderstanding about your new ride (even if it's not from someone who sold you on this particular model) to cost big bucks down the line with repairs required because of something as simple as an embedded nail during shipping just days before delivery; so checking out everything first really pays off–especially considering how easy.
Checking VIN Decoder before purchase
If you are in the market for a used car, it is important to do your research. One way of knowing if there may be something wrong with the vehicle advertised is by checking its with Audi VIN decoder against make and model information listed on advertisements or other documentation. A mismatch can indicate that this might not be an honest seller! Additionally, many vehicles have vital history information available through their VIN which will reveal whether they were ever stolen among other pieces of pertinent data like clean title status.
It's always good practice as consumers to take precautions when looking into buying anything secondhand such as cars because sometimes these items come at too-good-to-be true prices so buyers should perform due diligence before purchasing any product from anyone.
It's important to check the vehicle before purchasing – VIN Decoder Tool

The first step in buying any car is running a Audi VIN Decoder to ensure the vehicle's history and safety.
VINSPY.eu offers VIN code checking service for Europe vehicles